Automatic driving is becoming more and more popular
Traditionally, most people in the UK have learnt to drive in manual cars. Why? Partly because until quite recently only larger cars could be fitted with reliable automatic transmissions.
But during the last 10 years improvements in car design and technology mean that any sized car is now available with an automatic transmission. We predict that within the next 10 years nearly all new cars purchased will be automatics. So there really is no longer much point struggling to master the clutch and gears of a manual car. It's becoming rather old fashioned, and will probably soon be obsolete.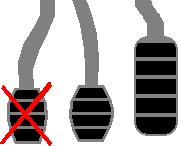 Get mobile quickly
Learning to drive an automatic car is much EASIER than learning to drive a manual car.
In a manual car you have gears and a clutch pedal. In an automatic car there is no clutch pedal and the automatic gearbox 'automatically' changes gears for you. This means much of the physical work is taken away, leaving you with both hands on the wheel and your eyes on the road. This enables you to concentrate on more important things like steering and planning ahead, making you SAFER, especially in busy traffic or long journeys. You will learn to start, stop and steer more easily.
You will pull away from junctions and traffic lights without the fear of stalling. You will also find roundabouts much easier to negotiate. Without the gears and clutch to worry about, you can concentrate on passing your test and ultimately a safe, competent driving skill for life.
Automatic is a popular choice if you have found it difficult to get used to the gears and clutch in manual lessons and is also especially suitable if you are older or disabled. Maybe you just want to be independent as quickly as possible?
Automatics used to be less reliable but technology is now far more sophisticated and reliability is now similar to a manual car. Automatics may be a little more expensive to run, but is this not a small price to pay for your safety and ease of driving? When you pass your test in an automatic car you will only be licensed to drive an automatic. If you wanted to drive a manual car you would need to re-take your test in a manual car. But why make life difficult for yourself? Driving an automatic car will still get you where you want to go but with safer and easier driving.
Pass Quicker
Most people need between 30 and 40 lessons in a manual car if they have never driven before. In an automatic it's around 25 lessons.